When talking about gaming keyboards, there are three different types of users:
The Filthy Casuals
Gamers in this category don't care about the keyboard they use: most of them just have something from Best Buy that had the term 'gaming' on the box, no matter if good or not. These are the so-called 'peasants' that need to step up their game.
The Educated Middle-Class
Above that you'll find a group of gamers that have a basic understanding of quality and relevant features of good gaming keyboards. These gamers will mostly have the standard range of gaming keyboards from brands like Logitech, SteelSeries or Roccat.
The High-end Keyboard Nerds
The peak of the gamer evolution are keyboard enthusiasts, that don't care about the price at all: even smaller technical or visual details count a lot, e.g. the type of key caps used. These guys shell out money for proper keyboards, and also love to mod them.
If you belong to the third group of gamers or want to join them, the name 'Ducky Shine' should ring a bell. This keyboard is known among hardcore enthusiasts as one of the best gaming keyboards in the world right now. But why is that? We've got our hands on the new Ducky Shine 5 to answer that questions ourselves!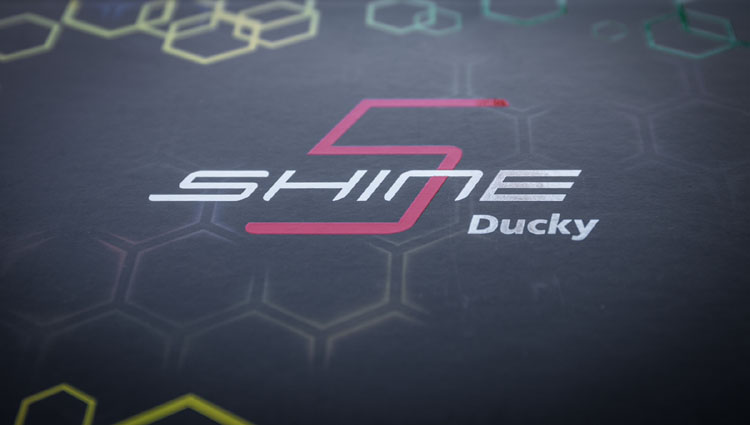 Ducky Shine Review: Features
First things first in our Ducky Shine 5 review: what does the feature list look like, and where does the Shine 5 excel compared to its competition?
| Feature | Explanation |
| --- | --- |
| ABS Double-Shot Key Caps: | The key caps of the Ducky Shine 5 are so called 'ABS double-shot key caps' that are molded together with two different types of plastic. That means each letter is not printed onto the key cap, but molded from a different type of brighter plastic. |
| Cherry MX Switches: | The Ducky Shine 5 is available with all common MX switches, made by Cherry. This is quite important, as there's an influx of 'mechanical keyboards' on the market with non-Cherry switches that have a lower quality. |
| N-Key Rollover: | When using the Ducky Shine 5 you can press all the keys on the keyboard at once, at each of these inputs will actually work. Most keyboards have a limit of simultaneous inputs. |
| Double Layer PCB: | One big difference between the Ducky Shine and other high-quality keyboards is the double PCB board construction. There are two separate PCB boards inside the Shine 5 – one for the LED lights and the other one for the switches. That means the transparent switches are fully backlit, while many other manufacturers just include smaller LEDs that illuminate the key cap. |
| RGB Lighting: | As just mentioned the Ducky Shine 5 in our review offers complete RGB backlighting, where every switch can be illuminated with a different color. |
| Plug'n'Play: | There is no software for the Ducky Shine 5, all the different options can be accessed by different key combinations explained in the manual. Although some people might prefer having a software, we always prefer the 'leaner' option that does not require any additional CPU bandwidth.. |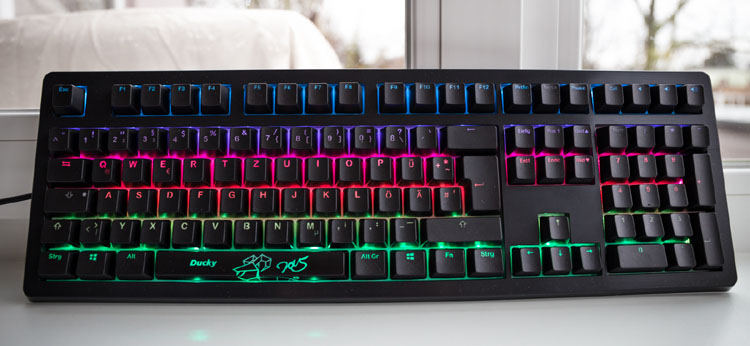 Ducky Shine Review: Design & First Impression
The first thing you realize when unboxing the Ducky Shine 5 is its elegant design: while lots of gaming gear companies tend to try out very extreme shapes and design elements, the Shine 5 is very simplistic and just super sleek. The case is made out of black hard plastic that looks like brushed aluminum. Of course it would've been even nicer to have an actual aluminum top like the Corsair K70, but the overall high-quality impression stays the same.
The next thing you'll notice are the ABS double-shot key caps. When taking these off (which is a bit harder compared to other keyboards) you can see how sturdy they are: both layers of plastic are pretty thick, so even when accidentally driving over them in your gaming chair might not even harm them.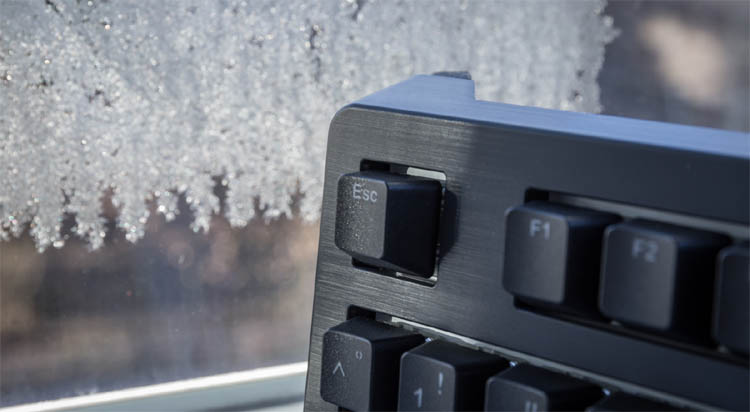 Below the key cap you'll find the transparent MX switches, depending on which switch type you've bought. The good thing about transparent MX switches is that a bigger LED is below the switch, instead of having a smaller one sitting just below the key cap. This allows a very bright and even lighting concept, especially combined with the white board the switches are mounted on. Below that white mounting board are the two PCB boards that also add some necessary weight to the Ducky Shine 5. Although this makes it pretty hard to slip, some additional rubber feet would've been nice.
All in all, our overall first impression in the Ducky Shine 5 review is very positive: it just has a feeling of perfection and excellent craftmanship written all over it, as you won't find any major negative issues or drawbacks. Even smaller details have been thought about as it seems, so we couldn't wait to see it in action!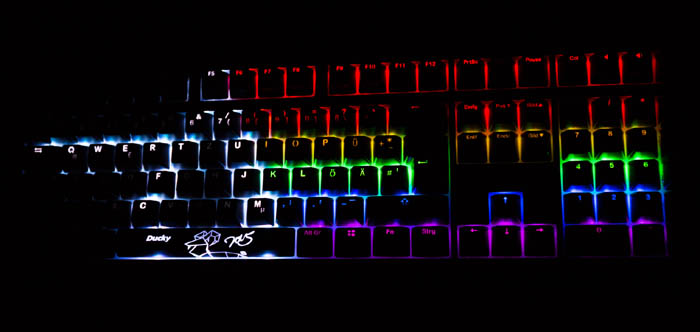 Ducky Shine 5 Test: Performance in Game
Enough theory-crafting, it's time to plug this bad boy in! Speaking of it, the Ducky Shine 5 is completely plug'n'play via USB, there's no software needed at all. Every setting you'd wish for can be accessed by using specific key combinations, e.g. accessing the different RGB modes, setting up macro keys or changing the polling rate. Even though this might look easier via a software, we actually prefer 'leaner' solutions that don't require additional software installations. They can add up and potentially block off quite a good amount of resources. Once you know how to set everything up, programming all these options will be pretty simple.
Typing or playing with the Ducky Shine 5 feels like keyboard heaven: the MX blues offer perfect tactile feedback as always, which is even improved by the double-shot key caps. Their matte finish has a perfect grip and feels great when typing. The keyboard layout is super standard, which is key to not accidentally miss any keys when playing – and you can buy sweet key caps to mod your Ducky Shine 5 as well!
Smaller details are also executed very well: the space bar is very often the weak point of gaming keyboards, as it's a huge key cap on a very small MX switch – hence pressing it not at the center will very often not activate the switch. The Ducky Shine 5's space bar doesn't care at all though where you press it, it always feels the same.
Another nice thing is the very even RGB lighting we've experienced in our Ducky Shine 5 Review, even though this is just for the looks obviously. The factory presets are awesome already, but you can also change the color of each key separately – allowing your own individual color patterns that you can easily save via the keyboard's processor.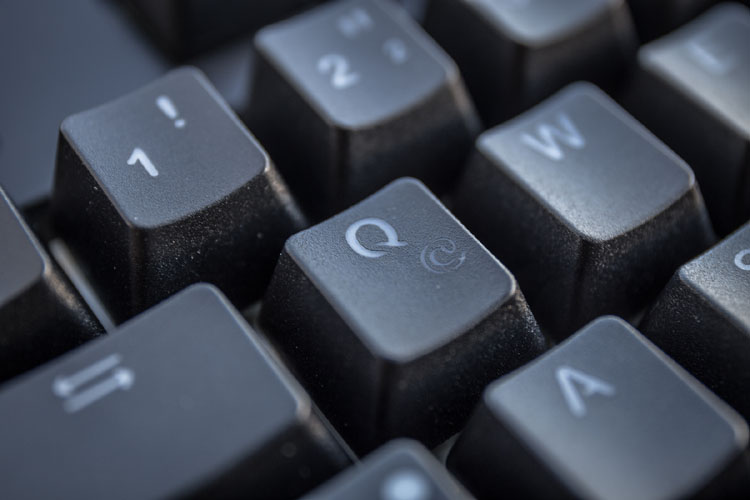 Ducky Shine 5 Review: Conclusion
To sum it all up: is the Ducky Shine 5 the best keyboard in the world right now? Our reply would be 'yes', as it offers perfect hardware, awesome tactility and all the necessary features you could ask for. That does not mean that competitors like the Corsair K70 aren't a good alternative for gamers; especially the K70 has a lot of positive features like the aluminum top plate. We'd still pick up the Ducky Shine 5 though, mostly due to the standard layout, the double shot key caps and the lack of any needed software. This is why the Ducky Shine 5 is the best keyboard money can buy right now!