When you're also an oldschool Counterstrike player like me (playing since 1.6, those were the days) you might have gone through lots of different gaming keyboards. Back in the early Counterstrike days you didn't have much of a choice: you just used your standard desktop keyboard without being too picky. If you look at today's keyboard market though there are huge differences! Today's gaming keyboards are specifically designed to serve a professional CS:GO player's needs and offers multiple advantages over normal ones. As I'm a huge keyboard nerd and a longtime fan of counterstrike, I want to share my experiences and recommend the best keyboard for CS:GO!
How to find the best keyboard for CS:GO?
The best keyboard for CS:GO has some very specific requirements if you're serious about your gaming – or just a casual that finally wants to have proper equipment. The following bullet points are the most important things you should look for in your CS:GO keyboard:
The best keyboard for CS:GO has to be a mechanical keyboard: these keyboards provide major advantages when compared to standard rubberdome keyboards. Mechanical keyboards are way more precise and durable, which are the key priorities for CS:GO gamers.
You should have Cherry MX Red/Black switches: the different color codes of Cherry MX switches stand for different types of switches with different tactile feedback. Black or red MX switches are both perfect for shooter games as they are linear and only need little force to press them down. This should result in slightly better reaction times – perfect for CS:GO!
The key factor for me is though: do the best CS:GO pro players in the world actually use this keyboard? Pro players in CS:GO can chose from all the available keyboards on the market to get that perfect AWP aiming. If the best player use a certain type and brand of gaming keyboards, it definitely needs to be among the best keyboards for CS:GO!
Which keyboard do actual CS:GO pro gamers use?
As I'm hailing from Europe (go NIP!) I was lucky enough to visit IEM Katowice where CS:GO pro teams from Europe and North America faced off against each other. Not only did I have the chance to watch some intense CS:GO matches, but I could also check what kind of gaming mice and gaming keyboards these pro players actually use. Of course CS:GO pro players are often bound to sponsor contracts by gaming hardware companies and have to use keyboards of that brand. But: if players like flusha, JW or shroud are able to pull off perfect movement and aiming with these keyboards, they have to be the best of the best. Else these players would not chose to represent them. Therefore I want to share my observations, as well as my own test results for the these two best keyboards for CS:GO:
Keyboard for CS:GO 1: SteelSeries 6gv2
If there's one "standard keyboard" for CS:GO in the world its definitely has to be the SteelSeries 6gv2! Fnatic is just one of the teams that use the 6gv2 almost exclusively – so if you ever spot that perfect AWP shot from JW then you know which keyboard was involved in that! The 6gv2 was also the weapon of choice for serial cup winners Ninjas in Pyjamas before their sponsorship deal with Xtrfy (whose products are only available in Scandinavia right now). With its Cherry MX black switches the SteelSeries 6gv2 offers one of the best and fastest tactile feedbacks on the current gaming keyboard market. Compared to other Cherry MX switches, the black ones are linear and way easier to press down which allows better reaction times in-game. With its true anti-ghosting you're able to push as many buttons at the same time as you want, there will be no signal that's not processed. It does not come with fancy LED lights (trust me, you don't really need these anyway) or makro buttons (why the hell would you need these in competitive CS:GO anyway?), so the SteelSeries 6gv2 is a very puristic gaming keyboard. The result: one of the best keyboards for CS:GO is to be had for just 90 US Dollars right now! This keyboard is THE standard for CS:GO and highly recommended.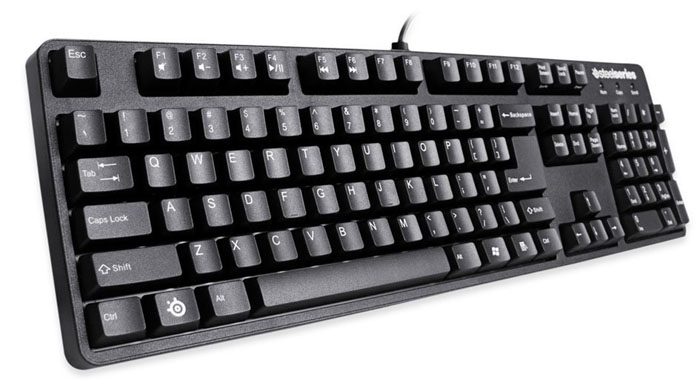 | Image | Keyboard | Switches | Rating | Lowest Price |
| --- | --- | --- | --- | --- |
| | SteelSeries 6gv2 | MX BlackMX Red | 86 | 88.00 $ |
Keyboard for CS:GO 2: Tesoro Durandal
Although this might be the first time you hear about a company named "Tesoro", CS:GO pro players are heavily using keyboards of that brand! Tesoro's Durandal is an extremely impressive mechanical keyboard with different Cherry MX switches to chose from. I personally prefer the red MX switches for CS:GO, but blue or brown switches are also pretty sweet if you prefer more tactile feedback. Besides the awesome design, the Tesoro Durandal is one of the most durable keyboards out there: its case is made out of aluminum, which (seriously!) makes it really heavy. But: this fits perfectly to CS:GO pro player's needs as lighter keyboards might tend to slip on the table during combat – not this rock though! It is also backlit (if you play in dark environments – hello mom's basement :D) and has a 100% all key rollover, so every signal will be processed (no matter how many keys you hit at the same time). The polish overlords of Virtus Pro use the Durandal, just as a majority of Natus Vincere. With the build quality of the Tesoro Durandal, I expect the amount of pro players using it to rise even more in the future!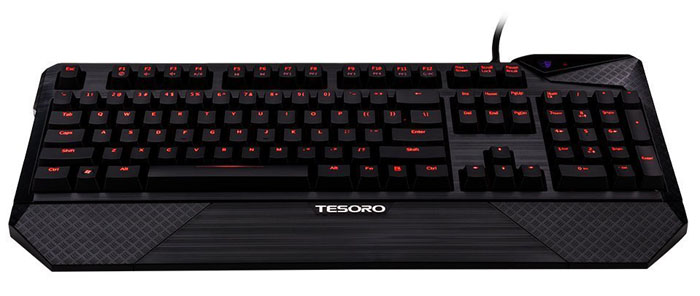 | Image | Keyboard | Switches | Rating | Lowest Price |
| --- | --- | --- | --- | --- |
| | Tesoro Durandal | MX BlackMX RedMX Brown | 86 | 135.00 $ |
Conclusion: The best Keyboard for CS:GO
Of course: nothing beats true skill in CS:GO, not even the best hardware and gaming keyboard. But if you're really looking to have a better tactile feedback and a more precise feel of every movement in game, a mechanical keyboard should be your number one priority. Both keyboards I recommend you above will outlast any regular gaming keyboard you might chose, so every dollar spent on these is a perfect investment. While the SteelSeries 6gv2 is THE standard keyboard for CS:GO for a very competitive price, the Tesoro Durandal is a hidden champion for so many pro teams in the world. If you're serious about gaming (and you should be), chose one of the above to get one of the best keyboards for CS:GO on your desk as well!