Usually, we're a pretty tolerant bunch of nerds. We love all our fellow nerd friends, that have decided to become a privileged member of the PC master race and fight console peasants on a day-to-day basis. When it comes to mechanical keyboards though, all that fun and love might end and we won't stop highlighting the superiority of mechanical keyboards – until everyone ascends to Mount Olympus and the true master race.
All jokes aside: obviously everyone can choose on his own which keyboard he can or should afford – and we will not try to tell anyone what to do. But: we'd still want to introduce you to the beautiful world of the best mechanical keyboards 2017 and show you the current top 5 on the market. Because even though your budget might be slim, you can still enjoy the advantages of owning a high-quality mech keyboard and get your typing and playing to the next level.
So join us, ascend to Mounty Olympus with us and enjoy the top 5 best mechanical keyboards 2017 with us!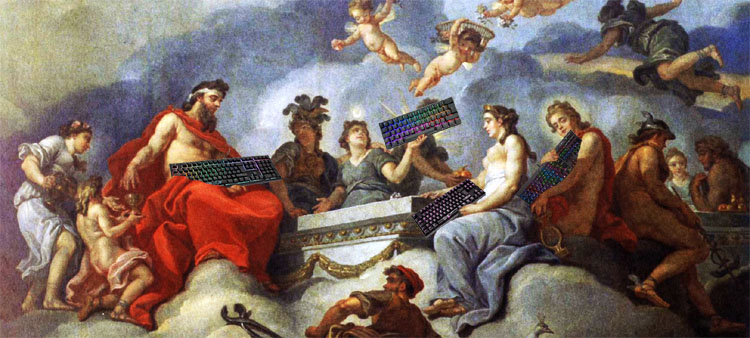 Mechanical Keybord…what's that again?
If you've already done your research and know about the benefits of mechanical keyboards, you can easily skip this part. If you haven't, here are the main differences to standard keyboards in a nutshell:
Normal keyboards (the ones that don't explicitly say 'mechanical' in their description) have a huge rubber mat below the keys that acts as the key force, pushing the keys back into their position after pressing them. This is done by small 'rubber domes' behind each key, which is why these keyboards are called rubber dome keyboards (duh). Mechanical keyboards though have a single, separate, mechanical switch below each key that transmits every signal to the computer. In each of these switches a small metal spring acts as the actuation force, depending on the stiffness of the spring.
Due to the amount of cheap mechanical keyboards on the market you should always look for one key (hehe) feature: Cherry MX switches, Made in Germany! Even 'popular gaming brands' switch (tehehe) to cheaper switches like Kailh, Romer, Razer – only to save costs. You should also try to avoid brands that have super colourful boxes with '1337 GAMING GEAR' written all over them; because if you have to use marketing bingo, it's very often to hide your cheap-ass products.
Advantages of Mechanical Keyboards:
These switches have a number of advantages that make these mechanical keyboards definitely #worth:
| Feature | Explanation |
| --- | --- |
| Better feel: | Especially the excellent MX switches from Cherry have a superb feel to them when typing, way more clicky and tactile than any rubber dome keyboard could ever offer. Every type of MX switch (MX red, MX blue, etc) has its own feel, with a super precise actuation force that will exactly be the same for every MX red, every MX blue and so on. |
| Longer Life Span: | Once you've seen the rubber joints of old cars, you know what a rubber dome keyboard will look like after a year: rubber wears off over time, and the pressure point of the keyboard will start sucking after a while. Even though you might've had a good tactile feedback with a rubber dome keyboard (which we doubt), it will change over the months and years to come. Mechanical MX switches have a guaranteed life span of 50 million clicks, and will not lose their stiffness throughout the years. |
| Switch Choices: | Rubber dome keyboards always seem to feel the same. If you're switching over to mechanical switches though, you can choose between different models that all feel different. Depending on your personal preferences, there's always a perfect switch for you out there. |
| Modding: | OK, this might sound super nerdy at first sight: but mechanical keyboards offer multiple sweet ways of modding them to further make them fit to your personal style. Custom key caps, different typefaces or mixing switches – if you can dream it, you can mod it. |
| | |
Top 5: Best Mechanical Keyboards 2017
The following 5 models are our best mechanical keyboards 2017, because they excel in every small detail. Remember: everyone can throw MX switches at a PCB board, but getting everything right takes way more.
#1: Ducky Shine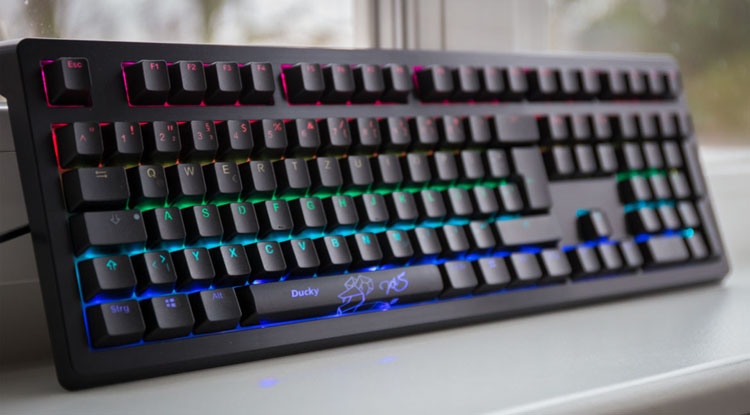 TAIWAN NUMBER ONE, especially when it comes to mechanical keyboards: Ducky, the Taiwanese keyboard manufacturer, has always been one of the best producers of highend mech keyboards in the past. Their current edition of the Ducky Shine is no different, and clearly is the pinnacle of mechanical keyboards right now for us. This might sound as though we're exaggerating, but seriously – it's really good. Excellent switches, perfect components and a superb design & workmanship – it doesn't get better than that. Especially the small details are nice and set the Ducky Shine apart from regular mechanical keyboards: its double shot key caps are the best production method for example to guarantee your keys won't just fade over the months and years to come. There's no software for the Ducky Shine, but it still has the highest amount of settings you an adjust by pressing certain key combinations: LED lighting, macros, multimedia keys and so on – perfect for modding and advanced users that want to have the perfect customized typing experience.
#2: Vortex KBC Poker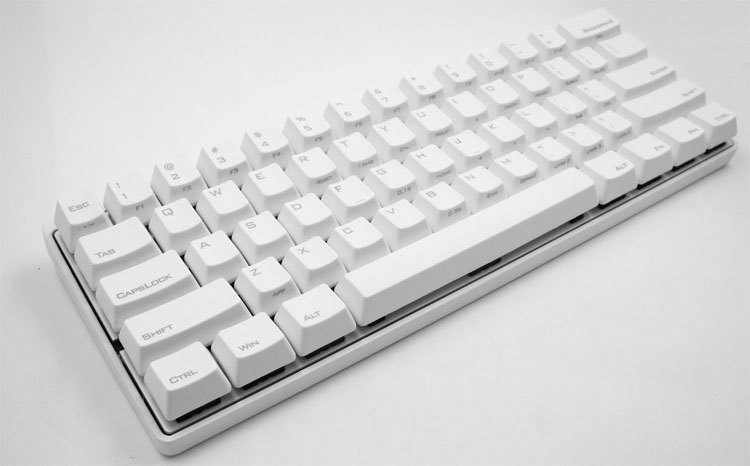 TAIWAN NUMBER ONE, Part 2: alongside Ducky, Vortex Gear is the premier keyboard manufacturer in Taiwan that keyboard fans rave about. Calling them 'manufacturer' makes even more sense as they have a lot of check-ups and manual labor in their build process (check reddit for a few photos). The current Poker 3 (or 'Pok3r') is the best 60% keyboard on the market (so no cursor or num keys). It also has excellent components: aluminum base, PBT double shot caps, fully customizable (with regular firmware updates) and a superb tactile feel when typing. Plus: you can mod nearly everything about your Pok3r. To sum it up: if you're looking for the best compact mechanical keyboard 2017, look no further!
#3: Das Keyboard 4


Even though Das Keyboard nowadays also plays a lot of marketing bingo ('mechanical keybords for badasses', ouch) and targets younger gaming audiences with specific gaming keyboards, the classic 'Das Keyboard 4' is still a favorite of ours. Das Keyboard is super plain: no LED lighting and even no letters on the keys in the ultimate version (for the extra amount of nerdiness) – but it is the perfect office keyboard that has everything an excellent keyboard needs. Different MX switches to choose from, an excellent design with an aluminum top and an overall awesome feel of quality – Das Keyboard has it all. If you're looking for a simple, elegant, high-quality keyboard for the office, Das Keyboard 4 is definitely one of the best mechanical keyboards for you!
#4: Corsair K70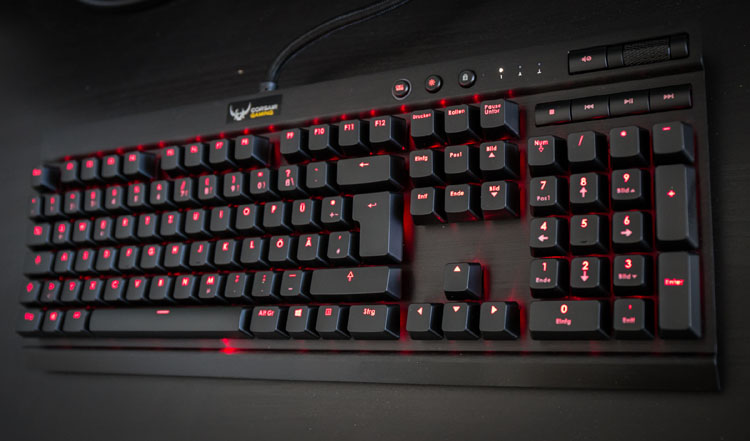 If you've missed bigger gaming gear companies in the list so far, there's a simple reason for it: even though there are so many gaming keyboards on the market right now, only very few of them are actually on par with the keyboards mentioned above. You'll very often have to settle with worse switches, or a lack of attention to detail. There's still a handful of great mechanical gaming keyboards though, and the Corsair K70 is one of them: a great choice of different MX switches, a brushed aluminum top plate, good backlighting and a nice overall look and feel make the K70 stand out among its gaming competitors. The only drawback for us is the non-standard keyboard layout, which needs some time to adjust to (and makes modding super hard). For the current price, the Corsair K70 is a great deal among mechanical keyboards!
#5: If you're on a budget: Logitech G610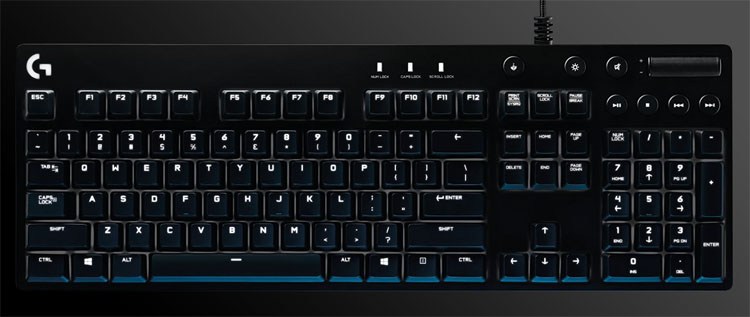 You might have realized it by now: all the keyboards mentioned above are not that inexpensive, even though they are a great value. If your budget is a bit tighter, you can still get that awesome feel of a mechanical keyboard without selling your house for it. The Logitech G610 is a very solid 'no-frills' mech keyboard with MX switches, backlighting and macro/multimedia keys – for a price way below 100 USD! It is by far not a Ducky Shine or a Vortex Pok3r, but for that low price it's still an awesome value. So – even if you can't justify spending >150USD on a keyboard, there's no reason to go rubber dome if you can get the G610 for the same price.