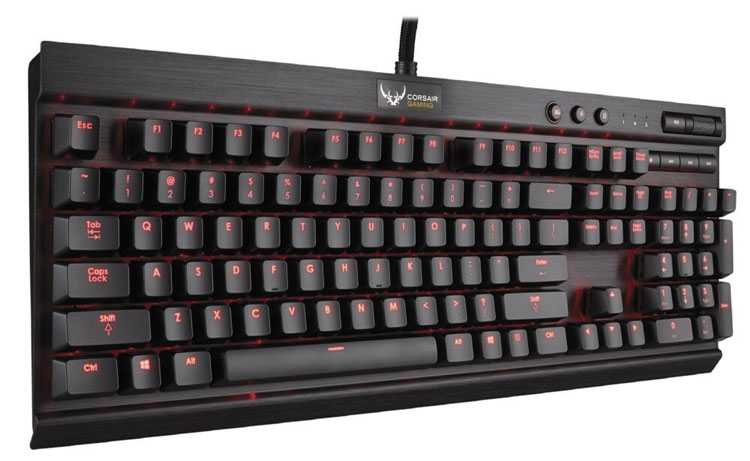 Corsair's K70 is a very special gaming keyboard: Korean eSports professionals like SKT Faker use exactly this keyboard to become the best players in the world. Also in my gaming keyboard overview we rank it as the best one out there. In my Corsair K70 review below you will find the reasons for that!
Corsair K70 Review: Features
| Image | Keyboard | Switches | Rating | Lowest Price |
| --- | --- | --- | --- | --- |
| | Corsair K70 | MX BrownMX BlueMX Red | 92 | 125.00 $ |
Corsair's K70 gaming keyboard has everything a competitive gamer needs:
Cherry MX Mechanical Switches: red, blue or brown
Customizable, individual key backlighting (only with RGB version)
Specialized textured key caps for WASD
Sturdy, anodized aluminum chassis
100% Anti-ghosting, rollover for 104 keys
Wrist rest (detachable)
Macro functionality for all keys
Dedicated multimedia controls
Design
The design of Corsair's K70 is outstanding: the aluminum chassis looks very sleek and not as bulky as with other gaming keyboards. The most interesting optical difference to other keyboards is the gap between the chassis and each key. This creates an optical illusion of "floating" keycaps that give the K70 a very aggressive look. Other reviews even call it the "best-looking keyboard" on the current market. While the standard version of the K70 only has a red backlighting option, the K70 RGB stands out: here you can assign each key a different color coding – it doesn't get any fancier than that!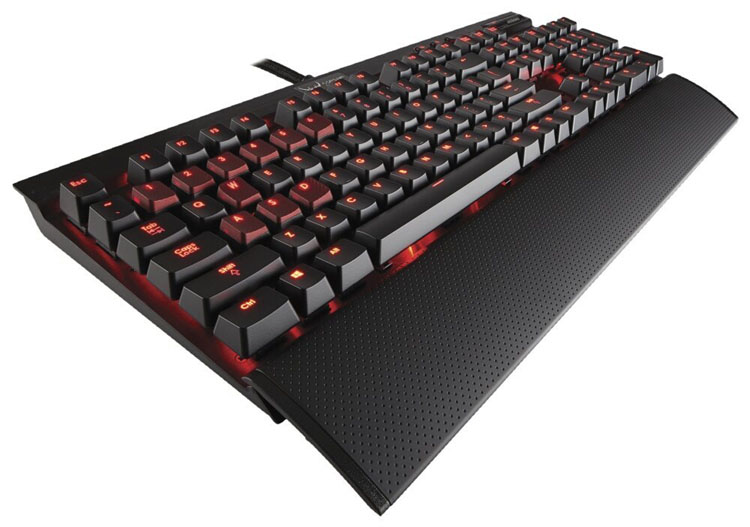 Keys
| Color Code | Switch | Type | Feedback | Actuation Force | Comment |
| --- | --- | --- | --- | --- | --- |
| | Cherry MX Red | Linear | No | 45cN | Most popular mechanical switch with gamers because of low actuation force and linear construction. |
| | Cherry MX Blue | Pressure Point | Yes (hard) | 60cN | Strong tactile feedback, harder to press down. Very loud, but a favorite for gaming and writing. Prevents accidental pressing of keys. |
| | Cherry MX Brown | Pressure Point | Yes (soft) | 55cN | A good mix somewhere between red and blue switches. Great all around choice if you need tactile feedback, but with a lower actuaction force. |
Corsair's K70 keyboard is available with three different types of switches, all of them being the famous Cherry MX switches. As you see above, you can chose from Cherry MX blue, red or brown switches. These are different when it comes to the tactile feedback and the actuation force. I personally prefer blue MX switches for overall use (although they can be pretty loud) or red MX switches for FPS gaming. If you're not quite sure which ones to take, you could go for the brown MX switches as they offer something in between. Whichever of these you chose – these MX switches are awesome and being able to chose different ones is a big plus in my Corsair K70 review.
Corsair K70 Review: Summary
Corsair's K70 is (in my personal opinion) the best gaming keyboard out there right now. It has the best switches, all the features you need, awesome backlighting and a sick design. If you're in the market for a great keyboard, you should definitely have a look at the Corsair K70!